I recently started using Gixo after the founder Selina Tobaccowala posted about it in our Female Founders Community. I've been using a bunch of different fitness apps during the years to try and stay active despite my hectic schedule as a startup founder.
I tried the Bikini Body Guide "Sweat" app by Kayla Itsines, but dropped after a few months as my schedule became more demanding. Then I thought if I sign up for classes, the accountability will make it harder for me to drop so I started using ClassPass, but the commute to different locations pretty much killed my routine.
When I started using Gixo it surprised me. At first when I downloaded the app I thought it was another video fitness app, but then when I really started using it I was blown away.
There are actual LIVE classes! With actual certified personal trainers that do the coaching, the user experience in those interactions is remarkable. When I joined my first Live video I didn't know what to expect, I joined the Abs & Booty Blast, the coach was Aaron.
First of all before the workout I received an accountability email that said:
"YES! Congratulations on signing up for your first Gixo class, Helena. We're holding your spot in Abs & Booty Blast. The LIVE workout is 25 minutes and I'll be working with you every step of the way.
Here's how I recommend you get ready for your first class:
Think about where you'll work out
That way you're ready to go once class starts.
Gather your stuff
You won't need any equipment except a charged phone, headphones, and comfy shoes.
Open the app a few minutes before class
This will give you time to accept a few in-app requests before class starts.
Please let me know if you have ANY questions or have any injuries or conditions to discuss. I am here to make your first class an awesome experience and can't wait to meet you!
Coach Aaron
P.S. If you choose to turn your phone camera during class, I'll be the only one who can see you. We'll be able to say hi to each other and I can make sure getting the most out of each exercise. Turning on the camera is optional and totally up to you."
This email was helpful to quickly figure out how I should plan this workout and what to prepare, it also made me feel accountable to not skip it.
I decided to do this workout indoor using my yoga mat. When the time came to join the Live session, the app made it very easy for me to remember with a timely push notification. I swiped the notification and I was in!
I watched a quick intro video by Aaron and then was prompted to enable my settings so the app can track my progress. Once I was in the live session, music was playing and the first workout was about to start. Other users were also joining.
Once the workout started Aaron was great at coaching us through the sets and explaining proper form. After each set we tracked progress and Aaron gave us feedback. It was motivating and fun to have other users doing the workouts with me and Aaron's guidance made me feel confident that I'm doing the movements properly.
As the session was coming to an end Aaron shared with us some nutrition tips which were super useful. I messaged him to see if he had that information posted somewhere so I could use it as a reference. He replied to my message in an email with an attachment that included a nutritional guide and a bunch of healthy recipes, how cool is that?!?
For my next session I signed up to the Walk & Stretch exercise with coach Sarah on a Sunday, I did that one outside at a local park. It was nice to breathe fresh air while exercising. Similarly to coach Aaron, coach Sarah was really good at guiding and motivating us. This workout was also special because when it's an outdoor workout the app actually shows a picture of a road and there is a progress panel. In that panel a circle started to fill out as I made progress by walking.
It showed how many miles I completed towards my goal and the progress circle filled up accordingly. If I was not on goal the progress circle showed red, and when I was on goal it turned to green. So I was motivated to speed up to get my color back to green to be on goal.
This workout was intervals of walking and then stretching, when the time came to stretch the panel switched from the road to instruction videos of stretching routines, and coach Sarah guided us to how properly do the stretching.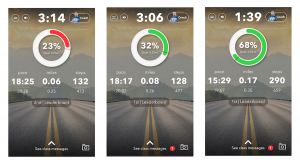 After that workout, my next sessions in the following few days were Total Core (15 minutes) with coach Alexis, Yoga Calm (15 minutes) with coach Jennifer, Let's Walk (40 minutes) with coach Aaron, and Booty Work (15 minutes) with coach Emily.
Here is a quick description of each class to learn about the benefits:
Abs & Booty Blast – This 25 minute circuit training class focuses on toning your abs and glutes. Four rounds of targeted work will get your abs and booty looking ever better in no time!
Walk & Stretch – Escape your workday for 25 minutes of dynamic stretching and some fresh air. You can start and finish at your desk (or couch, for that matter). Walking is encouraged — just get up and move!
Total Core – Hit all the stabilizing muscles, not just your 6 pack. If you want a tight core, or need relief from back pain, this all-levels tummy tightener is for you!
Yoga Calm – This 15-minute class involves relaxing into only a few simple poses, allowing you to destress, focus your mind, and feel a sense of well-being and ease.
Let's Walk – There are so many benefits to walking: improve your mood, strengthen your muscles and bones, improve coordination! In this class, we'll spend 40 minutes giving our bodies the gift of a long walk. There are no distance goals — just move! Feel free to walk outdoors or on a treadmill.
and Booty Work – This 15-minute, lower-body blast, targets your glutes, hamstrings, and quads. The result? A strong, balanced booty. Get the most from this class by enabling the camera-on feature. If you choose to, your coach will work with you to ensure you're doing the exercises safely and effectively.
All classes were equally good and the experience was consistently delightful across the board. The coaches were great at motivating and energizing and the software did a good job tracking my progress and keeping me accountable using timely reminders. I love the attention to details and how everything is thought out to keep me on track, making it easier for me to keep up my exercise routine.
So now I can easily plan my workout schedule! When I'm at the office it's easy to take a quick 15 to 30 minute workout outside. And when I'm at home I can simply use my yoga mat in the comfort of my living room. The ease of use, the training from professional coaches, the accountability, the metrics tracking, the reminders and the smoothness of the software all contribute to making Gixo the perfect fitness app. I'm hooked and grateful to Selina for building it.
You can find a free Gixo pass at gixo.com/pass